Welcome St. Lawrence-Lewis BOCES Federation Members
A Note From Your President
Greetings all,
Having been elected as the new FISP Union President in the latest election, I look forward to providing as much assistance and support as possible for you all. The most important thing to remember is that a union is the coming together of people. Therefore we are strongest when we all work together.
Yours in Solidarity,
Jeannie Blake
MONTHLY UNION MEETING DATES
September 11th at 3:30 p.m. at BOCES Northwest Tech Bldg. Cafeteria on Park Street in Ogdensburg.
October 9th at 3:30 p.m. at NYSUT Building at Lawrence Avenue in Potsdam.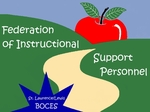 Notify me if you want something added ...msjeannieblake@yahoo.com
With funds for higher education on the chopping block, many of

NYSUT's

higher

education

locals have stepped up VOTE-COPE efforts. VOTE- COPE is strengthened when everyone gives! May I suggest that you just contribute what you might spend on a specialty coffee for one

week?

Advocacy is so

important;

we have to fight for our members, students, and for our future. Please give to VOTE-COPE…